Bangladesh is modernising its national energy infrastructure and is looking to future-oriented solutions to do so. To meet changing market requirements, smart grid concepts are to be implemented in distribution networks. German Tractebel company Lahmeyer International in a consortium with Tractebel Romania is carrying out a feasibility study to help bring the benefits of smart grids to the people of rural areas. The project is being financed by the German development bank KfW as part of the "Modernisation of Power Distribution – Smart Grids" programme.
Commissioned by the West Zone Power Distribution Company Limited (WZPDCL), a state-owned utility, the project is being worked on by a multi-disciplinary team of Tractebel experts. The goal is to increase the reliability and efficiency of the 33/11 kV distribution system through rehabilitation of substations and introduction of network automation. This will improve the reliability and reduce losses in the system.
Network analyses and simulations
The power transmission system is to be run on a largely automated basis in future and augmented by a distribution network management system (DMS). A SCADA system (Supervisory Control and Data Acquisition) will be used for the telecontrol of the substations in the WZPDCL distribution network. In addition, substations are to be rehabilitated, flexible local grid transformers installed and capacitor banks used for voltage stability.
At present the experts from Tractebel are working on data gathering, network simulations and downstream analyses. This work will help contribute towards more efficient use of electric power. The project represents the start of the transition of the transmission and distribution networks in Bangladesh into a national "smart grid".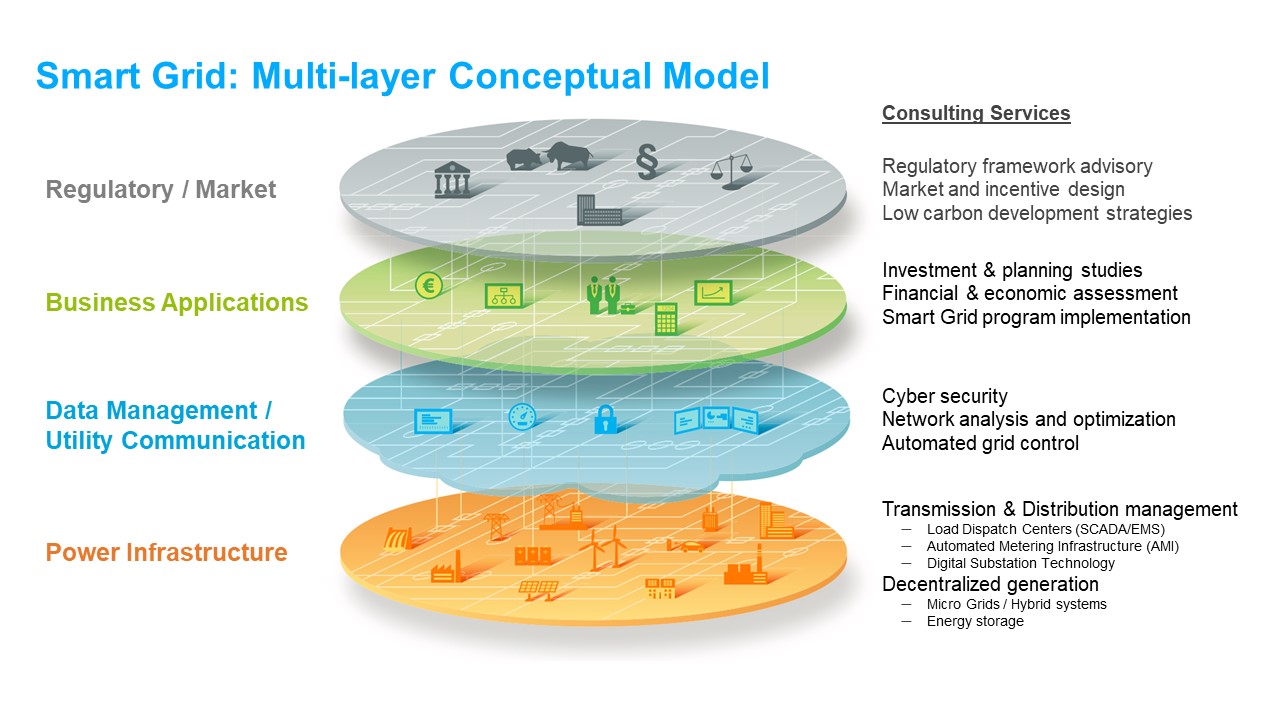 The Company – Engineering solutions for a sustainable future
Tractebel
With about 4,500 staff around the world, Tractebel is one of the leading specialized engineering companies worldwide. The company is located in Brussels. It develops and implements engineering and consultancy solutions as well as innovations for energy, water and urban infrastructure for the public and the private sector. With more than 150 years of experience and a global presence, Tractebel offers its clients added value throughout the complete project cycle. Tractebel is a company of the French multinational electric utility company ENGIE with headquarters in Paris (France).
Lahmeyer
Since December 2014, Lahmeyer belongs to Tractebel, and thus is part of the ENGIE Group. As an international company of consulting engineers, Lahmeyer offers a wide range of planning and consultancy services. The main fields of activity are complex infrastructure projects in the Energy, Hydropower and Water Resources Sectors as well as in Building and Transportation. With origins dating back to 1890, the company has grown into one of the leading international companies with project experience in 165 countries.
Tractebel with head office in Brussels (Belgium) and its subsidiary company Lahmeyer with head office in Bad Vilbel near Frankfurt (Germany) cooperate on many international projects and keep growing closer as one company.
Contact Partner for Press Enquiries:
Lahmeyer International GmbH
Sabine Wulf
Head of Marketing Communications & CSR
Friedberger Straße 173
D-61118 Bad Vilbel
Phone: +49 (61 01) 55 – 0
Fax: +49 6101 55-2222
info@de.lahmeyer.com