Pioneers of the energy and transport transition: Tractebel to prepare a study for a waste-to-wheels concept with green hydrogen in the Rhine-Main region of Germany
The MH2Regio project is groundbreaking territory for Frankfurt am Main, for which the hydrogen expertise of Tractebel is being called upon. It is the first project for the development of hydrogen infrastructure in the region surrounding the Main metropolis for the provision of green hydrogen. This is intended to secure the transport transition in local and regional public transport, heavy goods and freight transport and inland waterway transport.
Role model project
As winner of the "HyLand" competition, the city of Frankfurt am Main is receiving federal funding for the development of a concept for a regional hydrogen supply system and to become a "HyExperts" region role model. The municipal energy utility Mainova AG initiated the project. Also involved are the municipal waste management operator FES and the jointly operated waste-to-energy plant. Various partner companies from the transport sector which, as potential customers for the hydrogen which is generated, are providing demand data as the basis for planning and are thereby also involved. The plans are for cost-efficient hydrogen production from green electricity, with the objective of developing an economically viable general concept for the required transport transition. The project is also intended to provide a blueprint for other metropolitan areas.
Green power from waste
The electricity to produce hydrogen will be supplied by the waste-to-energy plant. The waste incineration process generates thermal energy, which is fed to two steam turbines via a water and steam circuit. The turbines provide electric power for the grid and hydrogen production via electricity generators. Since the biogenic component (e.g., wood, domestic biowaste) in the incinerated waste makes up about 50 percent, the electricity generated in this way counts as green power and is certified accordingly. The plan for the MH2Regio project is the exclusive use of green power for the generation of hydrogen by electrolysis, to provide a whole region with mobility using this climate-friendly energy.
Expertise on the spot
Tractebel experts are undertaking the study for the MH2Regio concept. In this regard, the scheme will benefit from Tractebel's extensive waste-to-wheels experience. "We have a presence in the region and provide consulting advice and planning services on the spot," says hydrogen expert, Felix Knicker, "our package covers the preliminary technical planning of the electrolysis and filling station infrastructure, the economic analysis and the software modelling." The Tractebel team will be presenting its concluding findings in November 2021.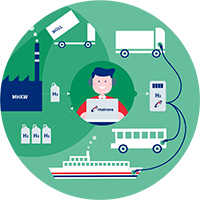 About Tractebel
Tractebel is a global engineering company delivering game-changing solutions for a carbon-neutral future. Insights gathered during our more than 150 years of experience in energy, urban, nuclear and water projects combined with local expertise allow us to tackle complex future-oriented projects. By connecting strategy, design, engineering and project management, our community of 5,000 imaginative experts helps companies and public authorities create positive impact towards a sustainable world, where people, planet and profit collectively thrive. With offices in Europe, Africa, Asia, the Middle East and Latin America, the company registered a turnover of 671 million Euros in 2019. Tractebel is part of the ENGIE Group, a global reference in low-carbon energy and services. http://www.tractebel-engie.com
Contact
Tractebel Engineering GmbH
Sabine Wulf, Head of Marketing Communications & CSR
Friedberger Straße 173
D-61118 Bad Vilbel
Phone: +49 (61 01) 55 – 0
info-de@tractebel.engie.com