IT for Rail Management conference under the banner of digitalisation
Rome/Berlin, 7 October 2015 – Modern IT solutions are the key to more efficient rail services – this was the prevailing view of those present at the "IT for Rail" conference, held in Rome on 1–2 October 2015. Over 25 top managers from prestigious European rail groups took up the joint invitation to Rome from the Italian state railway, Trenitalia, and Berlin-based IVU Traffic Technologies AG.
The increasing digitalisation of the rail sector also affects the handling of vehicles and staff, probably the two most important resources of a railway operator. In view of this, the two-day event focused on the question of how all resources can be deployed as efficiently as possible with the help of integrated software solutions. The CIOs gave presentations on their companies' experiences. One of the speakers reported that integrated resource planning delivers a competitive advantage that is not to be underestimated, particularly in highly competitive deregulated markets.
There were also intense discussions about "Software as a Service", in which the provider of the planning system also takes over hosting the software. Conference host Trenitalia, who selected IVU.cloud for the planning and dispatch of their 14,000 employees, reported their positive experiences with the complete outsourcing of their technical infrastructure, including cost savings and efficiency increases.
The mathematician and transport expert Dr Thomas Schlechte from the Zuse Institute Berlin (ZIB) explained how modern mathematical methods help calculate efficient train schedules. These algorithms are already used in IVU.rail, which was specially developed for the requirements of rail services.
The managers used the exclusive forum for open discussion among their peers. "The high-calibre speakers and participants underline that we have created an important platform for decision-makers in the rail industry with 'IT for Rail'," said Martin Müller-Elschner, CEO of IVU Traffic Technologies AG. "In the open discussions it became clear how much potential and leverage there is to significantly improve the efficiency of the complete production at rail companies through the use of IT systems."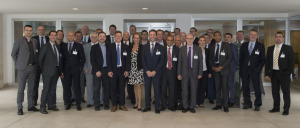 Press contact:
Dr Stefan Steck
Corporate Communications
IVU Traffic Technologies AG
Bundesallee 88, 12161 Berlin, Germany
Tel. +49.30.85906-386
Stefan.Steck@ivu.com
www.ivu.com
IVU Traffic Technologies AG has been working for 40 years with some 400 software engineers to ensure that transport in the world's major cities operates reliably and on time. People and vehicles in expanding cities are continually on the move – a logistical challenge which calls for intelligent and reliable software systems. The standardised software products of the IVU.suite and tailor-made IT solutions are used to plan, optimise and control the scheduling of vehicle fleets and personnel. Other systems support the choice of branch locations or ensure that election results are determined correctly.
IVU. Systems for vibrant cities.