"Converting Energy into Efficiency" is Knorr-Bremse PowerTech's motto at Hannover Messe (April 24-28, 2017). Innovative converters provide everything that customers in the industrial and energy sectors require from intelligent energy management. Knorr-Bremse PowerTech looks forward to welcoming visitors to the joint stand of the States of Berlin and Brandenburg (hall 13, stand 20).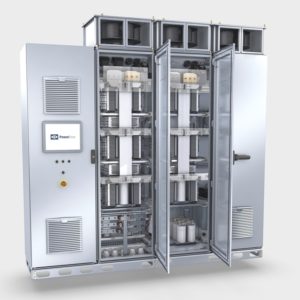 Because of its direct involvement in the energy transition, the industrial sector is facing a special challenge: planning a scalable power supply. Inspired by Hannover Messe's central theme of "Integrated Energy," Knorr-Bremse PowerTech is exhibiting converters for efficient energy supply and storage. The converters transform electrical energy into a regulated AC or DC power supply according to the specific consumer-side requirements. They support both stable grid feed-in and storage, and efficiently supply consumer-side loads as well.
Knorr-Bremse PowerTech also has an impressive product portfolio for drive technology. Active grid compensation to balance out voltage and frequency fluctuations during supply periods is integrated into these products, assuring their quality. Dr. Bertram Langhanki, the Knorr-Bremse PowerTech CEO, describes the performance portfolio in these words: "We supply converters for the entire spectrum: from energy storage devices to complete industrial solutions. This includes integrated battery storage or flywheel accumulators, solutions for hydrolysis applications and complex generator and load systems in micro grids as well. We are known for our solutions for constant power supplies, even under extremely difficult conditions – after all, we have decades of experience in rail technology. This ensures that industrial customers' machines run reliably, optimizing the costs of their production processes."
Uniquely robust converters
The compact, user-friendly converters from Knorr-Bremse PowerTech are full of intelligent power modules and stand for high power values in the low voltage range. The converters are particularly impressive in challenging environments, where they have to withstand harsh climates, moisture and even vibrations. A major benefit of Knorr-Bremse PowerTech converters: their flexible use in a wide variety of applications from energy-efficient automation and drive solutions in mechanical and plant engineering to a broad spectrum of energy generation and storage or highly dynamic test rigs. As a result of his experiences at trade shows in the past, CEO Dr. Langhanki knows: "The industry is increasingly interested in converters. On the one hand, converters for energy storage. Distributed energy supply capacity is being expanded. And our solutions for storage and reactive current compensation enable efficient strategies for future energy supply. On the other hand, our grid and drive converters are very popular for high-end test rigs for drive components, motors, gearboxes and transformers – for example, in Formula One racing."
Knorr-Bremse PowerTech is the combination of leading power supply companies under the umbrella of the Knorr-Bremse Group. More than 500 employees at five sites on four continents work together to pioneer solutions for energy conversion. The Knorr-Bremse PowerTech portfolio includes converter products and electronic equipment for a broad spectrum of rail vehicles as well as energy production, storage, industrial applications and high end dynamic test rig applications.
Knorr-Bremse is a leading manufacturer of braking systems and supplier of additional sub-systems for rail and commercial vehicles, with sales totaling approximately EUR 5.5 billion in 2016. Some 25,000 employees develop, manufacture, and service braking, entrance, control, and energy supply systems, HVAC and driver assistance systems, as well as powertrain and transmission control solutions. As a technology leader, through its products the company has been making a decisive contribution to greater safety by road and rail since 1905. Every day, more than one billion people around the world put their trust in systems made by Knorr-Bremse.