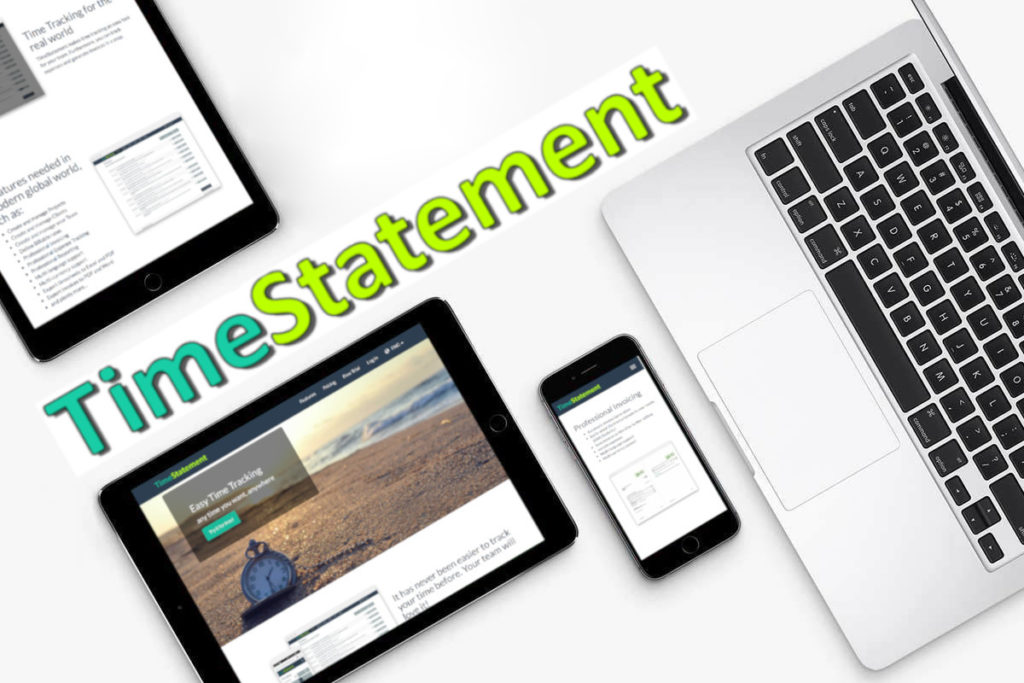 In the digital age its important to not lose any time for administrative efforts but to focus the time of your core business.

TimeStatement is going to help you. This Time Tracking solution, which can be run on any internet compatible device, is easy to use for reporting, expense tracking, professional billing and much more. (see below)

Due to its high use ability and structured layout, it is very easy for users to familiarize themselves with TimeStatement and start entering their time.
Here you can find a professional free full version: https://timestatement.com (free of charge)

Our time-tracking service is ideal for small to large companies, as well as for freelancer, who are looking for an intuitive and quick time and task tracking solution.
Through the cloud based implementation of the TimeStatement solution, everything on the web are easy to download and upload anywhere at any time and can be changed or deleted via your phone.

TimeStatement even lets you edit the invoice template with its integrated Word editor, so your invoice design stays the same, but they are generated automatically with a few clicks in many languages.

Thanks to the new technologies, TimeStatement joined to the "Swisscom FinTech January" map: http://fintechnews.ch/fintech/swiss-fintech-startup-map-for-january/24699/

Here is a short video presentation of TimeStatement: https://www.youtube.com/watch?v=-1-iZ_UYGr4
Detailed Feature information's:
Time tracking:

Time / Performance tracking
Stop watch function for exact time tracking
Overview of tracked entries

Expense tracking:

Expense tracking
Adding of receipt attachments
User-defined unit supported
Overview of tracked expenses

Project management

Supported billing types: "Project billing rate", "Task hourly rate", "Employee hourly rate"
Supports international currencies
Supports expense flat-rate
Adjustable money or time budget
Cloning of project settings for new projects
Dedicated members including project leader function (project leaders can see tracked entries of other project members)

Invoicing

Creating invoices from tracked time / expenses of one or multiple projects
Overview table of tracked entries of an invoice (incl. manual adding / removing of entries)
Supports invoicing in every language
Integrated Word editor for quick editing of an invoice
Adjustable Invoice number, PO number, discount, VAT and payment due for an invoice
Includes payments tab for managing invoice payments in TimeStatement
Supports advance payments
PDF export

Invoice templates

Complete adjustable invoice design by your own wish
Extra tags for the invoice can be added
Online Word editor included
Multilingual

Under "Settings" -> "Translations" every desired language can be added to create invoices

List of unpaid invoices available

Report

Dedicated reports for specific user, project, client, own company or who

Show all entries of the desired object

Great for controlling and validating performed services of a team or project
Adjustable time window for report (week, half month, month, quarter, year, all or custom)
PDF and CSV export options


Backups

Backup of your TimeStatement system
Option to restore TimeStatement system from a backup
Daily auto-backup if changes have been made
Download and upload of backups

Users

Admin role supported (Admins have access to all the settings, projects, invoices etc. normal users only have access to their own timesheet and expense pages nothing more)
You can mark registered users as inactive, so they can not login to their TimeStatement

Generall informations about TimeStatement



TimeStatement has been developed in Baar, Switzerland and is a swiss quality solution
All our servers are located in Switzerland, so your data is protected by strict Swiss privacy laws
We are constantly working on improving TimeStatement and adding more features
As an experienced developer team we can offer to make specific developments to make TimeStatement a perfect suited solution for you workflow and needs.